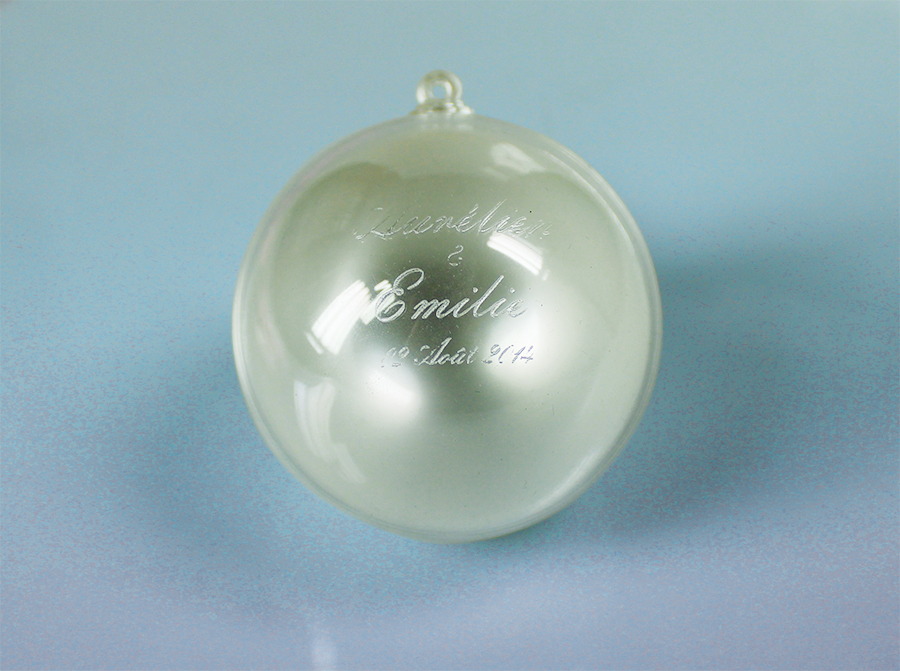 Minimum quantity
: 200 pieces
Available diameters
: from 5 to 12 cm
Production time: 3 to 4 weeks
Available ranges: all ranges of plastic balls and plastic bubbles
Colors: no color
It is important to note that production times are only indicative and that variations may occur depending on the order.
How is the engraving done?
The engraving process is simple and consists of removing material from the surface of the product, following the outline of a text or logo. The result is therefore directly embossed in the material, guaranteeing resistance to time.
Having an engraved plastic ball is the best way to obtain a decoration at a lower cost on small series while being sober and durable. Elegant, engraving is ideal for keeping a personalized memory of the great events of your life (wedding, baptism, birthday, etc.).
Adding a personalized logo or text to your decorations will allow you to relive the emotions of these celebrations indefinitely. Engraved plastic balls to hang in your windows bring a unique touch to your decoration all year round with the guarantee of resistance and quality of French manufacture.
Which products can be customized?
All the ranges of bubbles and plastic balls manufactured in France by BallKit can be engraved, from 5 to 12 cm in diameter. As the etching removes the material from the surface of the product, the result offers a better contrast on dark colors, while light colors will benefit more from the relief. The minimum order is 200 pieces and the engraving can be done on one or both sides of the bubbles and plastic balls. The production time for personalized products by engraving is approximately 3 weeks after validation by you (increasing during the holiday period).
How to benefit from engraving?
You can request a quote for engraving by email or by filling out the personalization form. Don't forget to indicate the type of customization you want (engraving), the number of parts, delivery date if you have one, as well as the number of faces to customize.