Do you have a question? We have the answer!
How to contact customer service?
By phone at +33(0)2 38 94 10 80. An advisor is at your disposal from Monday to Friday, from 9 am to 12 pm and from 2 pm to 5 pm.Outside these opening hours, we invite you to send a message via the contact form:
Contact Us
.An answer will be sent to you as soon as possible.
How to receive a catalog?
For ecological reasons, we do not have a paper catalog. However, we do have an online catalog that you can find on the following link: Consult the online catalog
Otherwise, all information (ranges, colors, dimensions, prices...) is available on our website: www.ballkit.com
You can also order online!
How do I subscribe or unsubscribe from the newsletter?
To be informed of the latest news about our BallKit® brand, news, and promotions, you can subscribe to our newsletter by clicking on the link at the bottom right of the site or the home page.
If you no longer wish to receive our newsletter, you can unsubscribe directly by clicking on the unsubscribe link in each newsletter.
I am not a professional, can I order on the site?
Our website is intended for professionals (retailers and associations of retailers, brands, event communication agencies, local authorities, associations, works councils, retailers...) and also for individuals. So you can order on our website.
My contact details have changed, how do I report it?
You can change your personal information at any time via the "My Account" section.
I forgot my password, how to do?
To retrieve a new password, you can click on the "Forgotten Password?" link on the login screen. Then enter your email address. You will receive a new email containing a new password. We advise you to modify it quickly in the "My Account" section to define a new one. If you have not received the email, remember to check your junk mail.
Is my personal information protected?
Respecting the confidentiality of our clients is an absolute priority. For more information on this subject, we invite you to consult our general terms and conditions of sale, as well as our "Personal Information" section.
Is it possible to obtain a product sample?
All our samples are subject to a charge. All you have to do is order a unit of the product from which you want a sample.
How are the divisible balls conditioned?
For diameters from 5 cm to 12 cm included, our balls and bubbles are sold in packs of 10 pieces. From a diameter of 14.5 cm, our products are sold individually.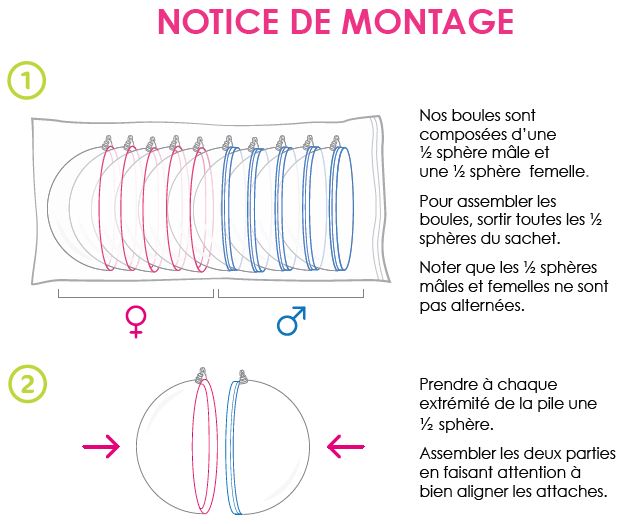 A lot contains the female and male parts of a ball/bubble of the same color and diameter. To make two-tone balls/bubbles, you need to order two batches of the same diameter in different colors, which you then simply combine.
Is it possible to rent certain products?
No, it is impossible to rent our products, they are exclusive products intended for sale.
A product is no longer in stock, can I pre-order it?
As a manufacturer, we can easily replenish our stocks. Nevertheless, the launch of production requires a minimum quantity. The preorder is therefore not available on our website but you can nevertheless contact our customer service to know the next replenishment date of the stock of an item.
How do I mount my display ball to be placed?
Here is an assembly manual to easily install our display balls to be placed.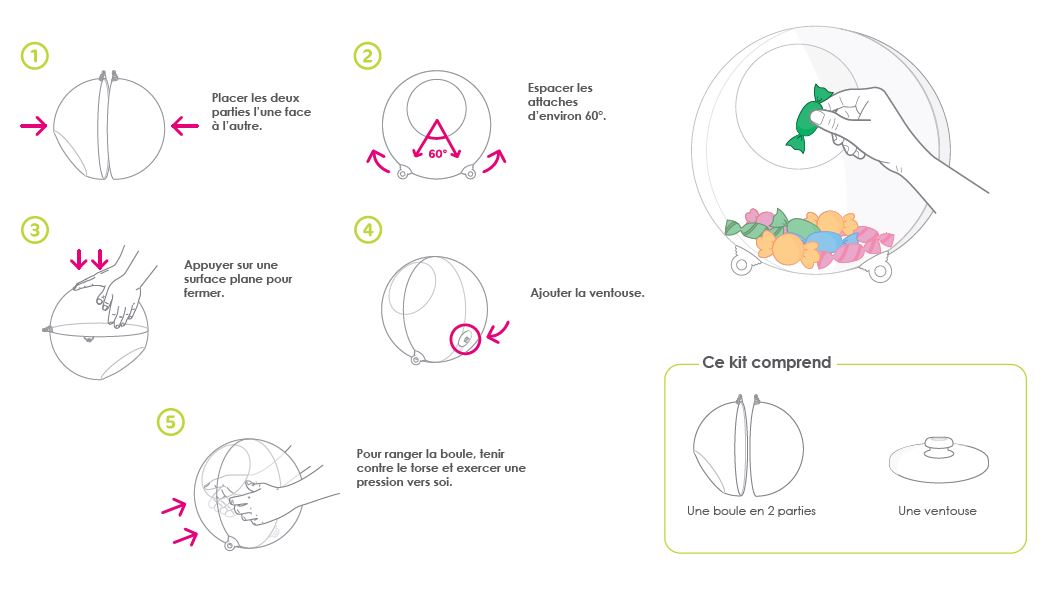 Are 2D shapes protected?
The 2D shapes, separators, trays, and crosspieces are delivered with a protective film.
Remember to remove it.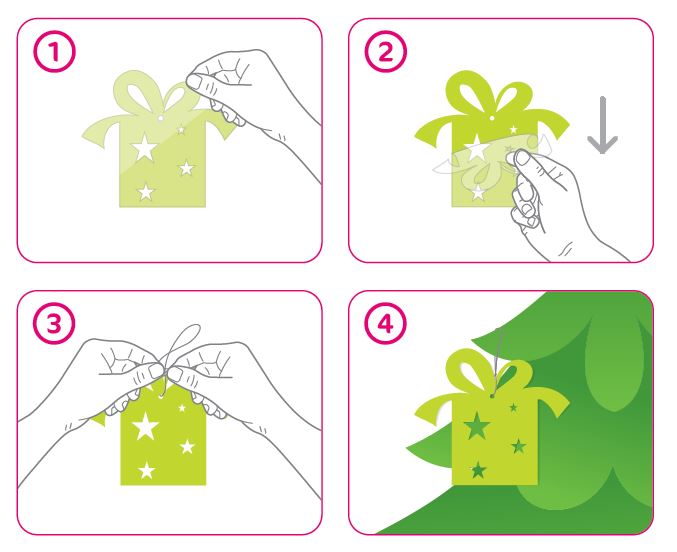 How do I place my first order?
Choose the items that interest you by browsing through the product categories or using the search bar.
Add them to your shopping cart:
To add a product to your basket, indicate the desired quantity, choose the color, size and/or various options, then click on the "Add to basket" button.
To access your shopping cart and confirm your order, click on the "Shopping Cart" icon located at the top right and then on "Order".
To order on our site, you must have an account and be logged in. After creating your account, a confirmation email containing your login details.
Enter your contact information. You can choose an address or billing address different from your delivery address. Please note that once the order has been paid and invoiced, the invoicing information can no longer be modified.
Choose your delivery method among those offered to you. The amount of shipping costs is indicated opposite the delivery method.
Choose your payment method among those offered to you. You must accept the General Terms and Conditions of Sale to confirm the order.
How to request a quote?
To request a quote, contact us using the form in the "Contact Us" section, specifying the references, options, and quantities required.
If your project requires customization or the development of a specific product, mention it in your message.
Our team will send you a quote containing the rates as soon as possible.
How do I change my order?
Once the payment of your order has been confirmed, it cannot be modified. We invite you to contact us via the "Contact Us" section or by phone at +33 (0)2 38 94 10 80.
What are the different payment methods available on the site?
 Different payment methods are available on our website:
The payment card (credit card): Visa, Eurocard / Mastercard, CyberMUT (Crédit Mutuel), or by Paypal.
IBAN / BIC bank transfer: in euros from all EU countries. Please note that this type of payment slightly increases the processing time of your order.
The French bank cheque, drawn up in Euros only, and issued by a bank domiciled in metropolitan France. Please note that this type of payment increases the processing time of your order.
For orders by credit card, you must indicate the 16-digit card number, expiry date and security code (3 digits to the card code or 4 digits in front).
The easiest and fastest way to make your payments is by credit card.
Is payment by credit card secure?
Your online payment on our shop is 100% secure. Your credit card number and personal information are protected by the SSL (Secure Sockets Layer) protocol of our financial partner.
The information entered is instantly encrypted, so that it can be transmitted securely. The bank carries out the transaction automatically and the card numbers are not stored on our servers.
When will the amount of my order be debited?
Your bank account is debited immediately after receipt of your payment.
Can I pay by cheque?
No, cheques are not accepted. You can consult all the payment methods available in the "Order" section, section "What are the different payment methods available on the site?".
What do I need to know about paying VAT if I am a company?
For deliveries made in France, VAT is payable and is included in the amount of your online order.
For supplies made in a European Union country other than France, do not forget to enter your Intracommunity VAT number to be exempt from VAT.
What are the processing times?
For any order placed:
From Monday to Friday before 10:00 am, the order is processed the same day and shipped within 24 hours.
From Monday to Friday after 10:00 am, the order is processed and shipped within 48 hours.
On weekends, your order will be processed and shipped on the following Monday.
Can I exchange or return merchandise?
Upon delivery, we invite you to check the condition of the merchandise in the presence of the carrier.
In case of dispute, only these reservations expressed after the carrier can be taken care of by our after-sales service within 72 hours.
In accordance with articles L.121-20 et seq. of the Consumer Code, the consumer has a withdrawal period of 14 clear days from the date of delivery of his order, to return any item that does not suit him and request an exchange or refund without penalty (subject to verification and non-unpacking of the items), except for the return costs, which remain the responsibility of the Customer.
Any return of goods must be subject to prior agreement from the sales department. To do so, please send your request to sav@ballkit.com
What are the delivery times?
The delivery time varies according to the carrier selected and the destination:
GLS - Your order at home within 24 to 48 hours for shipments in France. For international shipments, the delivery time is 3 to 5 working days.
Colissimo Expert- For shipments in metropolitan France, delivery within 48h / 72h, delivery in working days- For shipments to overseas France, delivery within 5 to 7 days, delivery in working days.
Chronopost 24 hours. Your package delivered the next day before 1 pm or 10 am! Delivery from Monday to Friday.
ATTENTION: CHRONOPOST service BEFORE 10:00 am, make sure that your postal code is on the list of 24,000 municipalities served. If you choose this service without prior verification of service to your municipality, BallKit.com cannot be held responsible and your order will be sent to CHRONOPOST BEFORE 13H00 without any price modification.
By conveyor on pallet or half-pallet. Time varies depending on the destination. Collection of the goods on the spot by you. To do this, make an appointment in advance by phone at +33 (0)2 38 94 10 80, or contact@ballkit.com.
Do you deliver to the French overseas departments and territories?
Yes, we deliver to all French overseas departments and territories. Customs duties may be claimed by the carrier at the time of delivery.
What is the amount of my shipping cost?
The amount of shipping costs is calculated according to the volumetric weight of the goods, your place of delivery and the desired delivery time. To find out this amount, you can simulate an order online.
How do I receive my order?
When you receive your order, please remember to open the package and check the contents before signing the delivery note, even if the package seems to be in good condition.
If items are missing or broken, you can refuse the package, or express valid and precise reservations on the delivery slip (for example: "a missing batch" or "damaged and unusable items").
Then contact our customer service department to report the problem, specifying the reservations you have made. Our team will deal with your request and return the item as soon as possible.
Attention :
Do not note "Subject to unpacking" and/or "Subject to opening" and equivalent. These are not valid reservations.