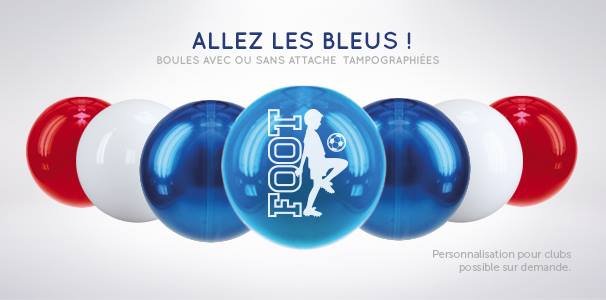 Minimum quantity
: 500 pieces
Available ball diameters
: from 5 to 29 cm
Maximum marking area: 14 cm
Production time: 4 to 5 weeks
Available ranges: all ranges of plastic balls and plastic bubbles Colours: monochrome
It is important to note that production times are only indicative and that variations may occur depending on the order.
Pad printing is an indirect ink marking system. The process requires an engraved metal plate, with a logo or text for example. Ink is injected into the depressions of the engraving and then removed by a rubber transfer pad. Finally, the stamp deposits a thin layer of ink on a smooth surface, thus providing a unique and permanent marking.
Personalization guarantees you a unique and original result that suits you. Ideal for promotional events, raffles, advertising, goodies or Christmas and holiday decorations, pad printing brings a professional touch and sets you apart from your competitors. It also remains the perfect personalization for more private events such as birthdays, baptisms or weddings, to keep in memories a custom decoration according to your desires.
Which products can be customized?
BallKit has had a pad printing machine since 2013, allowing you to customize the bubbles and plastic balls manufactured by the French brand with your logos, texts, illustrations, etc. Ink marking is monochrome (one color) and can be carried out on all ranges of balls and bubbles for diameters between 5 and 29 cm while having a maximum marking surface of 14 cm. With a minimum of 500 pieces, pad printing can be carried out on one or both sides of the products. Be careful, allow 3 weeks for production after validation of the estimate (increased during the end of the year).
How to benefit from tampon printing?
You can request a quote for pad printing by phone at +33(0)2 38 94 10 80 or by filling out the personalization form. Do not forget to indicate the type of customization you want (pad printing), the number of parts, delivery date if you have one, as well as the number of faces to customize.